Dear SCSMI community, dear Colleagues,
The Third International Conference Colour in Film will take place in London from March 19 to 21, 2018.
With many intriguing presentations and screenings at the BFI Southbank and Birkbeck, University of London…
…and we will present the first results from my research projects ERC Advanced Grant FilmColors and SNF Film Colors. Technologies, Cultures, Institutions.
http://colour-in-film.net/2018-conference
Please find the program here:
http://colour-in-film.net/program
Registration is now open!
https://www.eventbrite.co.uk/e/third-international-conference-colour-in-film-march-2018-tickets-42204154763
Hope to see many of you there!
Barbara Flueckiger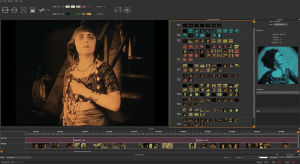 _________________________
Prof. Dr. Barbara Flueckiger
Department of Film Studies
University of Zurich
http://www.film.uzh.ch/team/people/flueckiger.html
ERC Advanced Grant FilmColors: http://filmcolors.org/2015/06/15/erc/
Timeline of Historical Film Colors: http://zauberklang.ch/filmcolors/
Research project DIASTOR: http://diastor.ch/